Theoretically, the "no-place" is a space of anonymity in which people exchange consumer relationships: this can be an area of ​​transport, market, rest, it is even associated with refugee camps. Basically it is a place stripped of identity, culture, religion. It has been an "anthropological non-place". The adventure of living in the era of supermodernity or supermodernity has collapsed the capacity of the human being to personalize his life; to control the history, the information, that of so much, is left over to be misinformed. In some way, this chaotic centralized network has caused those spaces of unease to be the places of loss and encounter with our identity, or rather, of Cartesian rewriting of it. Yanelis's work locates that non-place that welcomed him and from which he has probably emerged with more concerns than before but with the certainty of having found another way to discover himself more as a person, as an artist.
LET'S TALK A LITTLE ABOUT THE CULTURAL SCENE THAT PRECEDES THE CREATION THAT YOU CURRENTLY DEVELOP AND HOW THIS COULD INFLUENCE (OR NOT) THE NEW CREATIVE PROCESSES THAT YOU EXPLORE.
When one holds the powerful consistency of the Dramatic Arts, when you have spent almost half of your life dedicated to acting, it is impossible that many skills are not developed in you. In general, for an actor to be as complete as possible he must have a preparation that encompasses as many skills as he can. When it comes to creating a character, all the senses are set in motion, the search for this, either from the inside out or from the outside in, at some point makes you a craftsman. When you manage to harmoniously combine psychological and physical work with each of the elements: costumes and objects that will accompany you during the play, then you will have achieved a good part of that magical creation that is the character.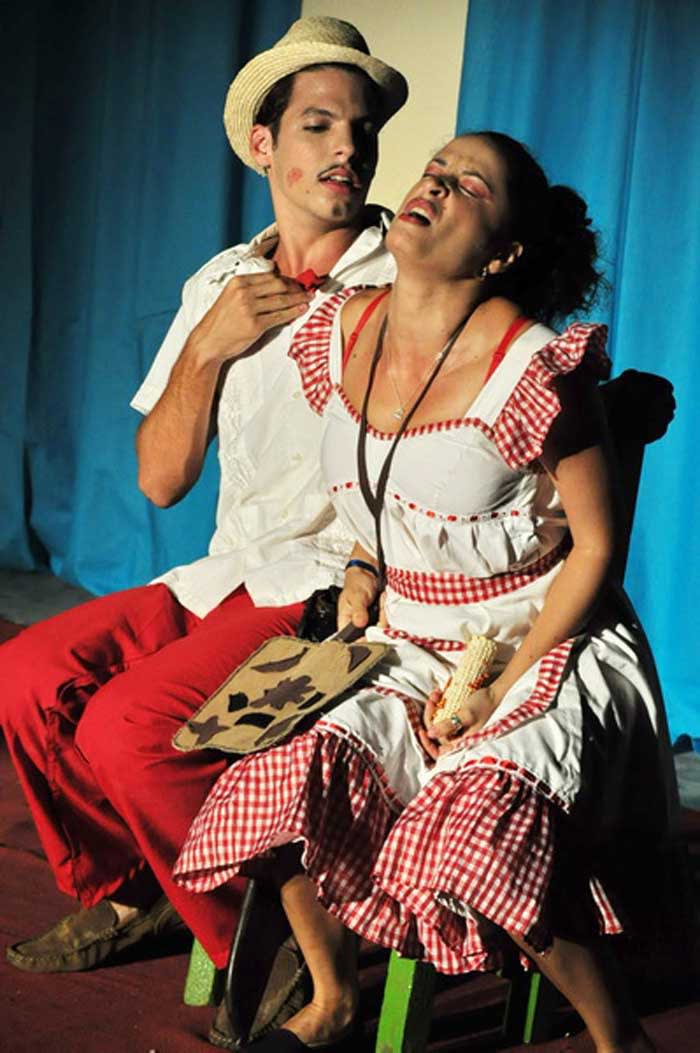 My motivations to create are diverse, but there are very obvious points such as my direct relationship with the visual arts for 13 years, being married to a visual artist. On the other hand, work in the theater with lights, space, objects, sounds and shapes, is the fundamental basis that gives rise to this creative process that I have been developing for about 4 years, and I am convinced that, consciously or unconsciously, it will be the mainstay of my inspiration for future series and pieces.
IN OUR FIRST MEETING, I REMEMBER THAT YOUR MODESTY CENSURED, IN FLASHES, THE FACT OF CONSIDERING YOU A "VISUAL ARTIST". I AM ONE OF THE PEOPLE WHO THINK THAT WITH THE SENSITIVITY TO CREATE ONE IS BORN, AND THAT THE "KNOW-HOW" DOES NOT NECESSARILY MAKE THE ARTIST; BUT WITH MORE FORCE I WOULD DARE TO AXIOMATIZE THAT THE CIRCUMSTANCES AND THE TYPE OF RESPONSE THAT WE HAVE BEFORE THEM, OFTEN DETERMINE THE FORMATION OF A LEGITIMATE ARTIST. WHAT WERE THE CIRCUMSTANCES IN YOUR CASE THAT MADE THE SUBLIMATION OF AN IDEO-AESTHETIC DISCOURSE POSSIBLE IN YOUR WORK?
Despite knowing that I was capable of building costumes, puppets, or scenographic elements that I learned through acting, I used to say over and over again: "I will never be able to do anything else in my life other than acting." In 2017, for the second time in New York, I found myself for some time in a panorama that lacked that acting universe that I was used to. The first time I had a pretty bad time, I would say fatal; not so the second, when my sense of survival put that 'leitmotiv' to the test and awoke in me another way of doing, creating, feeling almost as full as in the theater.
I met with 2 friends, one of them a graphic designer and I started doing a test, taking her drawings to the textile. What I did not imagine was that it was nothing more than an advance ... In 2019 my husband and I came to reside in Madrid, and by that time I had in mind to arrive here and continue with the textiles that I had started in New York , but this time with another approach and exploring new ideas. I knew that this tendency that I have to be misplaced could appear at any moment and try to place some emotional lack of control in me, but incredibly the inspiration and the daily work were stronger than any negative feelings that could emerge. Today it is clear to me that the worst lessons come out of the worst moments.
THE NEED FOR LOCATION / LOCATION IN THE POSTMODERN ERA HAS BECOME AN INCREASINGLY CHAOTIC PHYSICAL-MENTAL PROCESS DUE, TO A LARGE EXTENT, TO THE DEPERSONALIZATION THAT HUMANITY HAS SUFFERED AND THAT, PACKED WITH MERCHANDISING AND SOCIAL MEDIA, HAS MADE US IN THAT "LOST OBJECT" THAT THE PHYSICOANALYST J. LACAN CALLED. WHAT DO YOUR "MAPS" TELL US? (DARING TO CALL THEM THAT)
My maps, as you well say, are the consolation to a great extent to fragments of my fears. Those fears that are part of my life and probably also from past lives. Someone told me one day: "You should never stop acting, even if you are 80 years old or older, don't do it, because inside you lives a monster that comes out to breathe when you go on stage." And I believe that these maps that I later transform into gardens also help me to a great extent to remove and free myself from that part of myself that I love so much but that is so difficult for me to cope at times.
My maps not only pretend to talk about location or to find a direction, they also tell stories of love, joys, beliefs, family, childhood and youth, efforts, drowning and light.
Every time I start one it is like facing a being that I look straight ahead, fixed and very closely, without blinking for a second and once I finish it it is as if I had left behind a great weight, and suddenly that is transformed in that landscape, in something beautiful for me, a breath of peace.
YOU HAVE STRONG INCLINATIONS FOR ABSTRACT FORMS, ALTHOUGH THESE COME FROM REAL REFERENCES ... TELL US A LITTLE ABOUT YOUR CLOSEST REFERENCES, WHO HAVE DIRECTLY OR INDIRECTLY INSPIRED THIS PATH.
If I'm honest with you, it is an issue that I have not questioned at all. It is something that began to attract me without conscious reasoning. And I feel like it's one thing I shouldn't worry too much about for now at least. In the theater, unlike the visual arts, the actor has to have every word, movement or action that he performs on stage justified in his head. However, when you start to do a good improvisation, one acts by the impulse transmitted by the circumstances and the other actor or actors around you, without asking anything at all.
Here you get to experience the here and now that is so difficult for us in real life. Well, an improvisation is the closest thing to the process I'm going through right now. And I can tell you that over time I have learned that wanting to explain or explain why it happens or where the result of the work comes from, almost always loses the spontaneity, freshness and sincerity that it implies. But as far as I know, abstraction is a representation of the essentials of phenomena and things. She is able to tell us about what figuration often fails to communicate to us and particularly for me it is a high synthesis of the purity of the deepest part of consciousness and spirit. However, the answer to your question may lie in the fact of living surrounded by Artists for years such as: My grandfather, my husband, or friends like Michel Pérez (el Pollo) Osvaldo Gonzales, José Eduardo Yake with his paintings, just to mention a few, plus all the background acquired over the years every time I visit museums or exhibitions with Campins. Other artists that motivate me are Bernhard Lang, Rosario Belda, Lygia Clark, Carmen Herrera, Sandu Darie, Lygia Pape, Hormazd Narielwalla and of course Mondrian. On the other hand, there is the theater, which to a certain extent is an abstraction of reality from the very moment in which you manage to transform an object into a scene and turn it into everything that you are capable of visualizing in it, Example: A Suitcase in a bed, on a piece of furniture, on a table, on a platform, on a boat …
WHAT LED YOU TO EXPLORE THE FABRIC AND, ESPECIALLY, THE PATCHWORK AND FOUNDATION PIECING TECHNIQUE TO DEVELOP YOUR WORK?
I learned to use an old Singer sewing machine when I was 10 years old and little by little it became a huge enjoyment for me. I broke and transformed how many clothes I could and many times part of the clothes that I used and use I fix or make. Over the years this served me well throughout my acting career. We already know that in Cuba, due to scarcity, an actor often becomes his own costume designer, and even a set designer, which I adored from the first moment. That gave me a skill with my hands and imagination that made me extremely creative. The texture in the fabric has a charm and a richness that allow me to convey even more than what I propose with these pieces. Patchwork is an ancient art where rigorous work with textiles predominates, it is a very exquisite work of detail and a lot of patience. I'm not usually a perfectionist and I'm not a patient, however, when I do these jobs, all the schemes are broken. In the case of the Foundation Paper Piecing method, it was quite a success when I found it, it happened by chance one day seeing images of works in a quilt festival that takes place annually in Birmingham England, the way in which those pieces were sewn were of a level of precision, perfection and complexity that I could not decipher, which captured all my attention and I did not stop until I managed to understand for a couple of months later the intricate skein behind the patterns that accompany this type of work. My English is not good, but that was not an impediment to gradually translate the only book that I found and that guided me to make my own drawings based on this technique until later turning them into those maps that we have been talking about. It was quite an odyssey, but right now this gives me enormous confidence in the next jobs I want to do and makes me feel super happy.
TELL US ABOUT THE SERIES DEVELOPED SO FAR: "SPRING 2020" AND "GARDENS OF UNCONSCIOUSNESS" AND THEIR RELATIONSHIP WITH THIS PANDEMIC PERIOD THAT ALREADY SEEMS TO EXPIRE ... AND ALSO ABOUT THE MASK PROJECT, AS NOBLE AND AUTHENTIC AS YOUR HUMILITY.
Gardens of unconsciousness is my first series and I still have a long way to go into it, they are those Textile Cartographies full of colors and straight lines, but they are more than that, they are these labyrinthine Gardens that disarm me once I finish them. The confinements are not bad at all, in my case, not being able to go out, further developed the ability to walk with what was within my reach. So I would take the Google map and get on it and travel through the air to discover places around the world, that's how I got there and landed on several of my maps.
In the case of spring 2020, it arose as a response to all that anxiety caused by the first stage of confinement, where enjoying spring became more and more latent in an environment surrounded by buildings and without more vegetation around me than 2 floors. inside an apartment. They were several months without being able to see the horizon. The way I found to be closer to nature was first thanks to the masks, each one was a different flower, flowers that when I closed my eyes I was able to imagine at the right moment that they opened for the first time with their smells, colors and textures. First 6 patterns came out of them and that work suddenly became a game, because from those 6 patterns other flowers appeared in another format, then a series of drawings and now all this has resulted in other pieces with a different visuality than the previous ones and that take by name "Eye of dragonfly". Returning to the masks, once I had finished several of them I decided to go out on the street and today it is a luxury to see how acquaintances and friends give me the pleasure of seeing those memories of panic turned into colorful flowers made with tremendous love.
I HAVE SEEN YOUR DRAWINGS, AND THEY LOOK LIKE SKETCHES OF THE WORKS ON CANVAS ... OR ARE THEY EVEN LATER?
It depends, there are drawings that are sketches, I would say more, they are an inevitable part of the work, those that are later filled with numbers and later with pieces of cloth or colored fragments, such as the ones I use for the maps in The Gardens of Unconsciousness series, they are part of the previous process, the guide that allows me to take the pieces to the sewing machine, which is the last step. But if you mean the small drawings of the Spring 2020 Series, they are inspired by the deconstructions of the mask patterns. And each one works as an independent work.
IT HAS BEEN TRUE THAT YOUR BEGINNING IN THE VISUAL ARTS HAS AROUSED INTEREST IN THE CUBAN-MADRID ARTISTIC WORLD AND IN OTHER AREAS OF THE WORLD. TELL US A LITTLE ABOUT THE RECEPTION OF YOUR WORK AND THE PLANS YOU HAVE FOR THIS 2021 THAT IS JUST BEGINNING.
I think the first time we spoke I told you that all this creation came out without proposing or pretending that an audience as demanding as the visual arts would be interested in it. During the last Arco fair, Carlos Garaicoa did his usual open study which he called "Cartographies of the spirit". The theme of course had a lot to do with those early maps that he was making. He saw them one day when he was in the studio and to my surprise he invited me to this show. Suddenly I saw myself exhibiting with amazing artists that I have always admired and those that I never imagined I could have next to. Carlos Garaicoa himself, Ignasi Aballi, Allora y Calzadilla, Rosario Belda, Alighiero Boetti, Ariamna Contino, Hamish Fulton, Shilpa Gupta, Patrick Hamilton Jorge Machi, Yornel Martinez, Sabrina Mezzaqui, Kamilo Morales, Giovanni Ozzola, Claudio Perna, Rafael Villares and Qiu Zhijie. But the most surprising thing was the interest it aroused in people of all kinds who were in direct contact with the pieces, from friends, to artists, curators and collectors.
This is simply what happened, for many and perhaps for myself in a somewhat hasty way. Above all, for those who only aspire to do what they want, to enjoy to the fullest no matter what they think and to work in a transparent and sincere way regardless of whether they can be considered good, bad or inexperienced. My plans for 2021 are to continue working and surpassing myself in this new path, and if the pandemic allows it, in February I will have the first personal sample with part of the work done so far. And of course, once our daughter Siena is born, who is already on her way, absorb all that love so that it continues to fill me with inspiration in the works that I am about to begin.
April 1, 2021